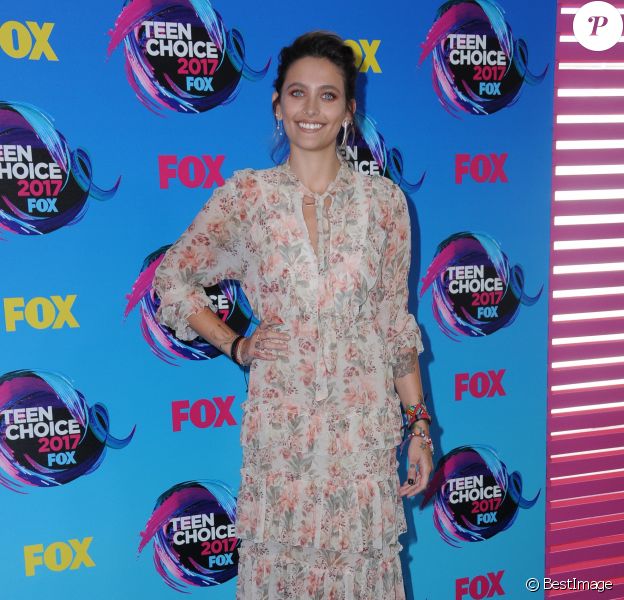 Un parterre de stars s'est rendu à la cérémonie...
Quand elle participe à des cérémonies de récompenses, Paris Jackson, unique fille du roi de la pop Michael Jackson, sait se faire remarquer.
Après son apparition fracassante lors de la 59e soirée des Grammy Awards à Los Angeles le 12 février ou encore sa majestueuse entrée sur le red carpet du Met Gala 2017 le 1er mai, c'est lors de la cérémonie des Teen Choice Awards 2017 au Galen Center de Los Angeles, dimanche 13 août 2017, que la jeune femme de 19 ans a mis tout le monde d'accord.
En effet, la grande soeur du jeune Blanket, qui fêtait récemment ses 15 ans en famille, s'est dévoilée totalement changée. Devenue brune depuis peu, Paris a présenté au monde entier sa nouvelle couleur de cheveux sur le tapis rouge de la cérémonie, pour laquelle elle était simplement vêtue d'une petite robe à fleurs très élégante. Niveau accessoires, la starlette a fait simple : des escarpins assortis à sa tenue et quelques bijoux aux bras et aux oreilles, ni plus ni moins. Quant à sa mise en beauté, celle qui roucoule avec un certain Trevor Donovan qui a le double de son âge était sensationnelle : un teint hâlé, une bouche nude et des paupières parfaitement orangées.
Sur le tapis rouge des Teen Choice Awards, on a aussi pu apercevoir la chanteuse et actrice Vanessa Hudgens (High School Musical, Spring Breakers, Powerless...) ultra lookée. Rita Ora était également de la partie, simplement habillée d'un drap de soie rose flashy qui faisait office de robe de cocktail.
Lors de cette cérémonie, il y avait également Zendaya en pyjama très trendy, Lucy Hale tout en velours, Naya Rivera dans une chemise en jean aux épaules bouffantes et bien sûr Bella Thorne, toujours aussi dévergondée : ventre à l'air pour sa première apparition face aux photographes au côté de son nouveau petit ami, Blackbear.
Le palmarès
Artiste masculin : Harry Styles
Artiste féminine : Ariana Grande
Meilleur groupe : Fifth Harmony
Meilleur artiste électro : Calvin Harris
Meilleur artiste hip-hop / r'n'b : Beyoncé
Meilleur artiste rock : Harry Styles
Meilleure chanson d'une artiste féminine : Crying in the Club – Camila Cabello
Meilleure chanson d'un artiste masculin : Shape Of You - Ed Sheeran
Meilleure chanson de groupe : Down – Fifth Harmony feat. Gucci Mane
Meilleure collaboration : Just Hold On – Steve Aoki and Louis Tomlinson
Meilleure chanson pop : Shape of You – Ed Sheeran
Meilleure chanson électro : Know No Better – Major Lazer feat. Travis Scott, Camila Cabello, and Quavo
Meilleure chanson hip-hop / r'n'b : I'm the One – DJ Khaled feat. Justin Bieber, Quavo, and Chance the Rapper and Lil Wayne
Meilleure chanson de rock alternatif : Believer – Imagine Dragons
Artiste révélation : Chance the Rapper
Chanson de l'été : Despacito – Luis Fonsi and Daddy Yankee feat. Justin Bieber
Artiste masculin de l'été : Shawn Mendes
Artiste féminine de l'été : Camila Cabello
Groupe de l'été : Fifth Harmony
Tournée de l'été : Ariana Grande – Dangerous Woman Tour
Artiste masculin le plus canon : Shawn Mendes
Artiste féminine la plus canon : Camila Cabello
Icône de mode : Harry Styles
Abonnez-vous à Purepeople sur facebook

Angelina Jolie : Confidences honnêtes, elle révèle ses failles de mère

Christopher Plummer est mort : la femme de l'immense acteur était à ses côtés

Richard Berry reconnaît avoir été un mari violent avec Jeane Manson et Catherine Hiegel

James Charles drague un adolescent de 16 ans : il s'estime piégé et s'explique

Zachery Ty Bryan (Papa Bricole) étrangle sa compagne et repart libre

Alec Baldwin papa pour la 7e fois à 62 ans : un nouveau bébé, 5 mois après le dernier

Meghan Markle : Une grosse victoire en justice, action gagnée contre un tabloïd !

Marilyn Manson accusé de violences conjugales : Dita Von Teese, son ex-femme, sort du silence

Shia Labeouf : Son ex-petite amie Sia fait une étonnante révélation sur leur relation

Meghan Markle enceinte pour la 2e fois : découvrez les prénoms favoris des parieurs !