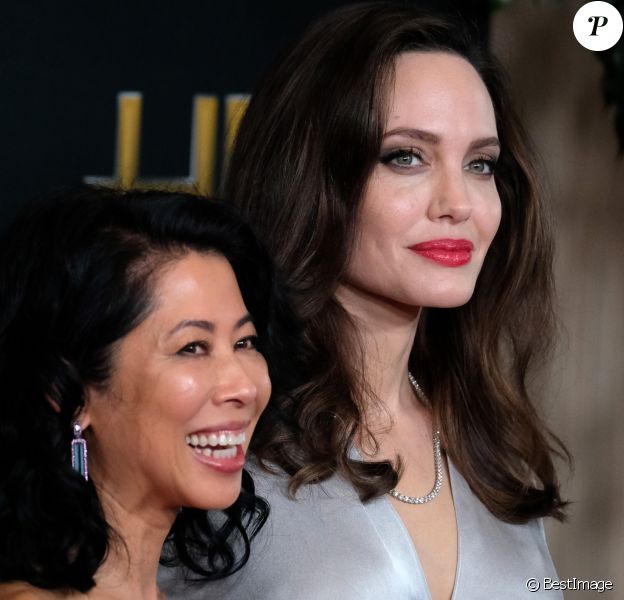 La saison des prix est ouverte !
Dimanche 5 novembre, dans le grand salon du Beverly Hilton Hotel à Los Angeles, la 21e cérémonie des Hollywood Film Awards lançait très officiellement la saison des prix de l'industrie du cinéma. Saison qui ne prendra fin qu'avec la 90e cérémonie des Oscars le 4 mars 2018. Hier soir, 27 trophées ont été remis lors de la soirée présentée par l'animateur britannique James Corden devant un parterre de stars, à commencer par Angelina Jolie.
Sublime dans une robe argent signée Jenny Packham, des chaussures Charlotte Olympia et parée de bijoux Tiffany & Co., Angelina Jolie était accompagnée sur le tapis rouge par l'auteure cambodgienne Loung Ung. La mère de six enfants a adapté son livre autobiographique pour le long métrage intitulé D'abord, ils ont tué mon père, disponible sur Netflix depuis le 15 septembre. Le film a reçu le trophée du meilleur film étranger.
Parmi les lauréats, il fallait compter sur Kate Winslet, meilleure actrice pour Wonder Wheel de Woody Allen, qui a profité de son discours pour embrasser Allison Janney dont elle est fan. Cette dernière a été récompensée pour son second rôle dans le biopic I, Tonya, pour lequel elle partage l'affiche avec Margot Robbie, le très mignon Sebastian Stan (le Soldat de l'hiver dans l'univers Marvel) et Julianna Nicholson. I, Tonya a justement décroché le prix de la meilleure distribution.
Un intense palmarès
Jamie Bell s'est présenté sur le tapis rouge avec son épouse Kate Mara (House of Cards). L'acteur a reçu le New Hollywood Actor Award pour Film Stars Don't Die in Liverpool. Jake Gyllenhaal (meilleur acteur pour Stronger), Sam Rockwell (meilleur acteur dans un second rôle pour Three Billboards Outside Ebbing, Missouri), Adam Sandler (Comedy Award pour The Meyerowitz Stories sur Netflix), Timothée Chalamet (révélation pour Call Me By Your Name) et Gary Oldman avec un prix pour l'ensemble de sa carrière font partie des comédiens récompensés. Du côté des femmes, il fallait compter sur Mary J. Blige (révélation pour Mudbound), l'immense Diane Warren en collaboration avec Common et Andra Day (meilleure chanson avec Stand Up for Something, extraite du film Marshall), mais aussi Jacqueline Durran et Jenny Shircore, respectivement pour les costumes et le maquillage de la version live de La Belle et la Bête.
Outre les lauréats, le tapis rouge fut illuminé par la présence d'Eva Longoria, Shailene Woodley, Jacqueline Bisset, Bryce Dallas Howard, Holly Hunter, Tatiana Maslany (Orphan Black), Elizabeth Olsen, les frères James et Dave Franco ainsi que Holt McCallany (Fight Club, Mindhunter), Denis Villeneuve (dont le Blade Runner 2049 s'est contenté d'un prix technique), le mythique Robert Patrick (Terminator 2), Luvas Guadagnino (réalisateur de l'attendu Call Me by Your Name) et la mythique Joanna Cassidy (Blade Runner).
Abonnez-vous à Purepeople sur facebook