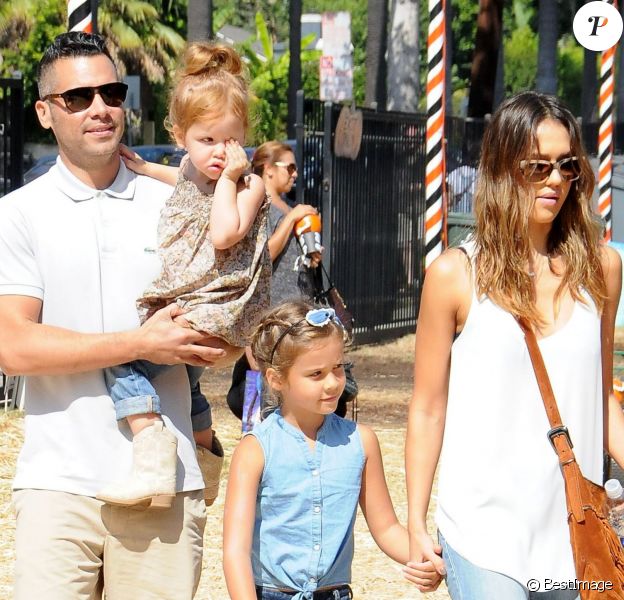 On le sait, Jessica Alba est une grande fan d'Halloween. Tous les ans, c'est avec un plaisir non dissimulé qu'elle choisit de beaux déguisements et célèbre cette fête de l'horreur en famille. Comme ladite fête se rapproche, l'actrice en ce moment à l'affiche de Sin City 2 est allée se fournir en citrouilles. Samedi 11 octobre c'est donc accompagnée de son mari Cash Warren et de leurs deux filles Honor et Haven que la famille s'est rendue chez Mr. Bones Pumpkin Patch à West Hollywood.
Top blanc ample et jean pattes d'éph', la sexy mummy de 33 ans était en mode incognito. Les deux petites étaient quant à elles craquantes dans leurs tenues de mini cowgirls. Honor, six ans, et Haven, trois ans, ont d'ailleurs eu le chance de profiter des nombreuses attractions proposées sur place. Entre tobogans, maquillage de visages et achat de grosses citrouilles, les deux petites ne semblent pas s'être enuyées.
De leur côté, Jess' et Cash ont eu la bonne surprise de croiser l'actrice et bonne amie du couple Jaime King, venue elle aussi avec son compagnon Kyle Newman et leur fils James. La belle blonde, star de la série Hart of Dixie, a donné la réplique à Jessica à deux reprises, dans Sin City 1 et 2. Jessica en a profité pour embrasser le trognon James, dont elle est la marraine.
Mr. Bones Pumpkin Patch semble vraiment être the place to be durant le mois d'octobre en Californie. Outre Jessica, Jaime et leurs maris et enfants, les badaux présents ont eu la bonne surprise de croiser également, Jennifer Lopez avec ses jumeux Max et Emme et la chanteuse Fergie avec son mari Josh Duhamel et leur bébé Axl.
Jean Henneresse
Abonnez-vous à Purepeople sur facebook