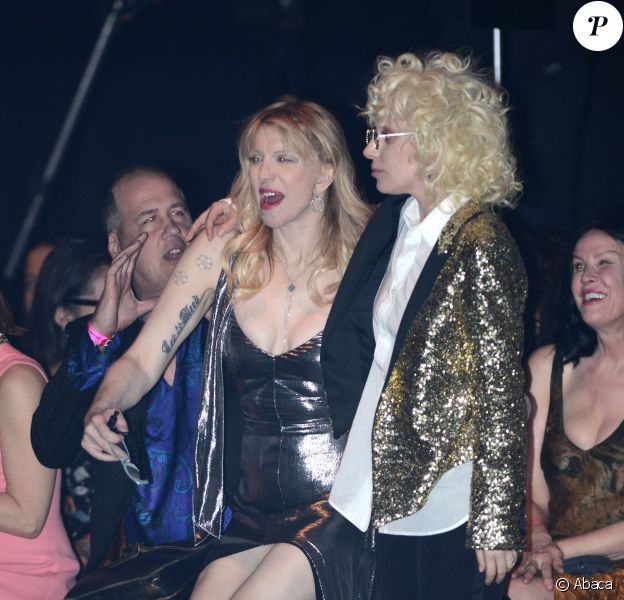 Hedi Slimane et Saint Laurent provoquent une pluie de stars à Los Angeles !
Jeudi 11 février 2016 : un grand jour pour les habitants de la planète Mode qui marque le début d'un mois de défilés ! En effet, de nouvelles fashion weeks, consacrées aux collections prêt-à-porter automne-hiver 2016-2017, s'enchaîneront à New York, Londres, Milan puis Paris. Un fashion month marathon dont le coup d'envoi a été donné par Hedi Slimane et Saint Laurent...
Ce n'est pas à NYC mais à Los Angeles que la maison Yves Saint Laurent et son directeur artistique Hedi Slimane ont lancé les hostilités ! Ce mercredi 10 février, le créateur et photographe de 47 ans a reçu, au Hollywood Palladium, situé sur le très prisé Sunset Boulevard, les invités du défilé Saint Laurent at The Palladium. Un événement, après la publication de douze teasers vidéo, auquel ont assisté Lady Gaga, Courtney Love, une Demi Moore sexy en petite robe noire, Jessica Alba remarquable en robe dorée, Rosie Huntington-Whiteley, Lily Collins, Emma Roberts, Jane Fonda et Alexa Chung. Un défilé de ravissantes spectatrices forcément apprécié par les chanteurs Justin Bieber arrivé en skate, Sam Smith, Beck et Miguel.
La hot mom Pamela Anderson et ses deux garçons Brandon et Dylan (19 et 18 ans), un Sylvester Stallone lui aussi en charmante compagnie - avec ses filles Sophia et Sistine, 19 et 17 ans - étaient également de la partie. Également venus à deux, Mark Ronson et Joséphine de la Baume, Zoë Kravitz et son amoureux Twin Shadow, les parents de Zoë, Lenny Kravitz et Lisa Bonet, Matthew Bellamy (Muse) et sa compagne Elle Evans, Milla Jovovich et son mari Paul W.S. Anderson, Ellen DeGeneres et Portia de Rossi, et enfin les soeurs Elle et Dakota Fanning complétaient le prestigieux premier rang du défilé californien de Saint Laurent.
Les chanceux convives ont ainsi découvert le deuxième projet d'Hedi Slimane à Los Angeles, où il a aménagé les studios Yves Saint Laurent (et rebaptisé la ligne de prêt-à-porter "Saint Laurent"), en 2012. Le défilé Saint Laurent at the Palladium était un show unisexe et a nécessité la participation de 71 mannequins - modèles de profession ou d'un soir.
Quatre-vingt treize looks ont été présentés au Hollywood Palladium. La garde-robe marie des tenues androgynes, véritable signature d'Hedi Slimane, psyché rock, d'inspiration militaire et hommage à la ligne Yves Saint Laurent Rive Gauche, qui fête en 2016 son cinquantième anniversaire.
Un autre défilé Saint Laurent aura lieu à Paris, lundi 7 mars.
La New York Fashion Week commencera ce jeudi 11 février et s'achèvera jeudi 18.
Igor N'Ko.
Abonnez-vous à Purepeople sur facebook